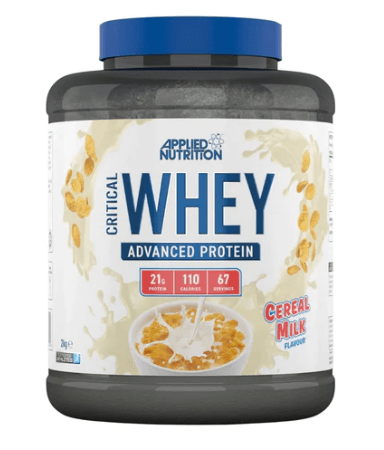 Critical Whey 2kg (FREE SHAKER & MULTI VITAMIN)
Pickup available at Headquarters
Usually ready in 1 hour
Critical Whey 2kg (FREE SHAKER & MULTI VITAMIN)
Banana Milkshake
Headquarters
Pickup available, usually ready in 1 hour
Unit 8a Stancliffe House
Molyneux Business Park
Darley Dale DE4 2HJ
United Kingdom
+447716647273
FREE APPLIED NUTRITION BULLET SHAKER 500ML & APPLIED MULTI-VITAMIN 90 SERVINGS
Applied Nutrition's Critical Whey Protein provides 4.8g of naturally occurring BCAAs per serving. Our scientifically developed Whey Protein is GLUTEN FREE, low in sugar and makes a great tasting shake – just add to water or low-fat milk.

Great Tasting
High in Amino Acids
Informed Sports Tested
High Quality
67 Servings
Applied Nutrition Critical Whey is a premium grade whey protein powder that is made up of the highest quality ingredients.
Whey protein is digested into amino acids within the body, which are the building blocks of muscle cells, thus contributing to protein synthesis and muscle building.
Ingredients:
Nutritionals For Chocolate Milkshake Flavour
Chocolate Milkshake
Whey Protein Concentrate (Milk) (Soy Lecithin), ISO-XP Whey Protein Isolate (Milk), Hydrolysed Whey Protein (Milk), Reduced fat Cocoa Powder, Flavour, Sweetener (Sucralose)
Vanilla Ice Cream
Whey Protein Concentrate (Soy Lecithin, Milk (Lactose)), ISO-XP Whey Protein Isolate (Milk), Hydrolysed Whey Protein (Milk), Emulsifier (Soy Lecithin), Flavour, Sweetener (Sucralose)
White Chocolate Raspberry
Whey Protein Concentrate (Soy Lecithin, Milk (Lactose)), ISO-XP Whey Protein Isolate (Milk), Hydrolysed Whey Protein (Milk), Emulsifier (Soy Lecithin), Flavour, Natural Colouring Agent (Beetroot Powder) Sweetener (Sucralose)
Banana Milkshake
Whey Protein Concentrate (Soy Lecithin, Milk (Lactose)), ISO-XP Whey Protein Isolate (Milk), Hydrolysed Whey Protein (Milk), Emulsifier (Soy Lecithin), Flavour, Natural Colouring Agent (Curcumin) Sweetener (Sucralose)
Strawberry Milkshake
Whey Protein Concentrate (Soy Lecithin, Milk (Lactose)), ISO-XP Whey Protein Isolate (Milk), Hydrolysed Whey Protein (Milk), Emulsifier (Soy Lecithin), Flavour, Natural Colouring Agent (Beetroot Powder) Sweetener (Sucralose)
Lemon Cheesecake
Whey Protein Concentrate (Soy Lecithin, Milk (Lactose)), ISO-XP Whey Protein Isolate (Milk), Hydrolysed Whey Protein (Milk), Emulsifier (Soy Lecithin), Flavour, Sweetener (Sucralose)